Celebrating Over 10 Years of Service!
Whether its steel trusses and beams, cell tower communications, air handling units, roofing materials, hot tubs, pianos...
We're there to hoist your needs....24-hours a day!
JOB SITE PHOTOS
Visit the Job Site Photos page
and have a look at what the
Santana Crane Team has been up to.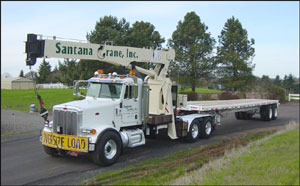 We are very pleased to feature.... our tractor-mounted boom truck that features a 40-60 foot stretch trailer among the Santana Crane Fleet.
Our operators will run your equipment or provide our own: Tower Cranes, Rough Terrain (RT) Cranes, Crawler Cranes, Material Elevators, Loaders, Bulldozers, Forklifts and much more.
Our equipment also includes: pallet forks, a man basket, concrete bucket, skip box, and spreader bars.